Customer Support
We love to hear from you!  =)
Thank you for reaching this page, If there are any concerns regarding customer service complaints please email [email protected]
If you are a brand, manufacturer, or distributor and like to reach our buyers please email [email protected]
For all sales, or general questions, you may call (310) 855-9168 please see our google or yelp page for hours of operations.
Contact us
Frequently asked questions
My Shopping Cart Checkout Keeps Failing
1.1 Why my shopping cart checkout keeps failing why?
1)  Billing address field is sensitive, 97% of checkouts fail due to incorrect billing address registered to your debit / credit card bank on their file.
Example: If you moved from another state or have a past address and you have not called your bank to update your bank records, you'll need to type in your old billing address on page-1 and you'll type in the delivery address on page-2. They are different below is a video link demonstrating you how to do that visually. 
2) Another reason checkouts fail due to not meeting the minimum order amount that's required, during your checkout there will be an error status above the browser. Photo example below in green circle.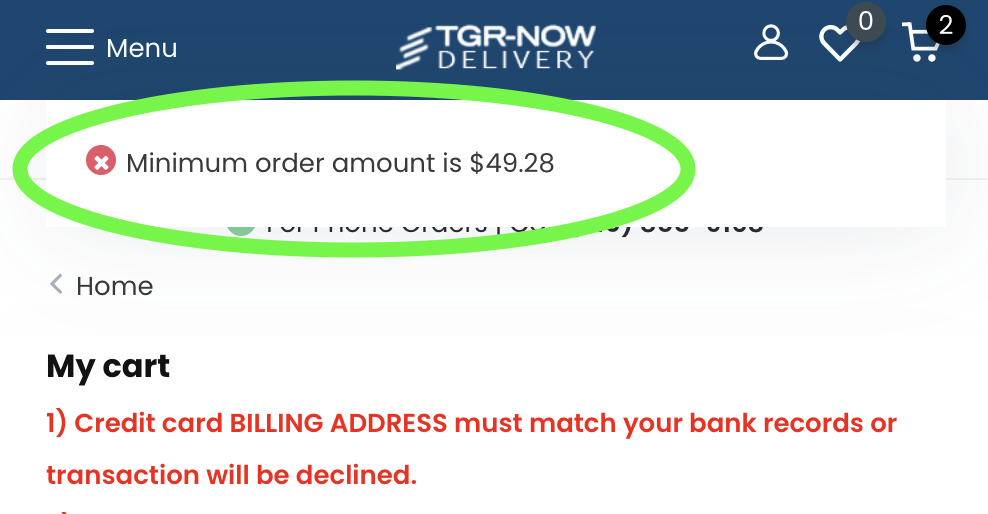 Uber Drivers
2.1 Why doesn't Uber driver bring packages to my door?
Uber Package drivers are not in the same network as Uber Eats drivers. Because the products we sell are prohibited on the Uber Eats network we must utilize other services that Uber Eats drivers are not opt-into to make this service possible. 
TGR company is trying to be as creative as possible utilizing the existing networks of delivery available for you and our customers.